At Guardian Angels Catholic Community, we want you to know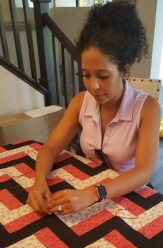 that just because we no longer have access to the gathering space in back of church, the Prayer Quilt Ministry still goes on. It is especially important at this time of the COVID-19 scare that we can feel comfort in saying prayers for others or having prayers said for us when needed.
In this time of stay at home orders and all the just plain unknown, getting a plan in place for Prayer Quilts requests was uppermost on our minds.
To request a prayer quilt, please email Barb Burns. Her email may be found here. Please share your request and she will get back to you.
We will get the word out to all Crafters and parishioners that prayers are needed. We will not mention specific names or circumstances. Prayers will be said, Barb will tie the quilt, Father Rodger will bless it and the requester may pick it up in the Parish Office during office hours. You will receive a phone call letting you know when it is ready for pickup. If that is not possible, other arrangements can be made.
If you have any questions, you may contact Barb by email or by calling Pastoral Care Minister, Mary Pat Potts at 651-789-3178. Please leave a message is there is no answer.
Stay safe and God bless you.