Fall Festival

Join us for our annual Fall Festival this weekend!
September 16-17-18, 2022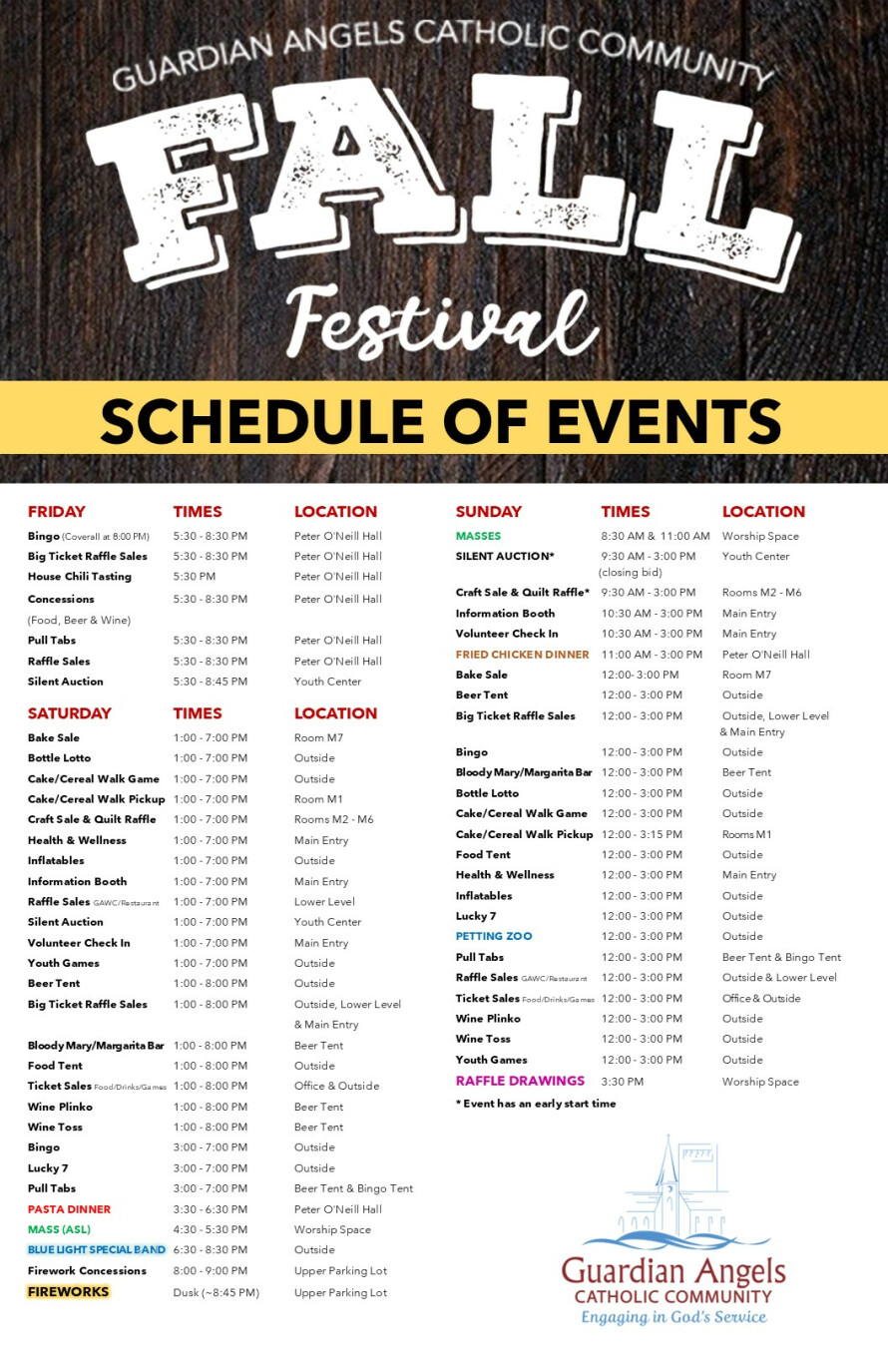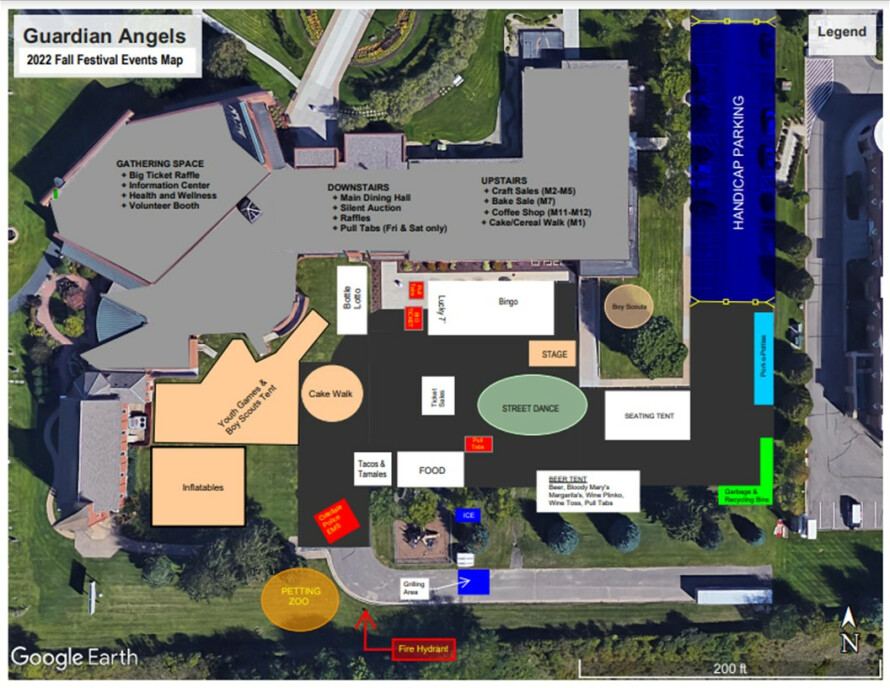 Online Silent Auction
Opens Friday, September 16 & closes Sunday, September 18 at 3:00 p.m.
Click here to shop!
Saturday Festival Fun! Events begin at 1:00 p.m.
Outdoor Kids & Adult Games, BINGO, Silent Auction, raffles, Crafters sale, live music at 6:30 p.m., fireworks at 8:45 p.m.
Pasta Dinner 3:30 - 6:30 p.m.
Sunday Festival Fun!
Silent Auction and Crafters Sale open at 9:30 a.m.
Kid and adult games and petting zoo start at 12:00 noon.
Chicken Dinner 11:00 a.m.- 3:00 p.m.
Sunday-9:30 a.m. - 3:00 p.m.

Big Ticket Raffle
Drawing is Sunday at 3:30 p.m. Tickets are $10 and available in Parish Office.
---
Big Ticket Raffle
Tickets are $10 and may be purchased in the Parish Office during open hours.
Prizes include:
Grand Prize of $10,000 CASH
2nd Prize of $2,000 Cash
3rd Prize of $1,000 Cash
$500 VISA Gift CARD
$500 VISA Gift CARD
META QUEST 2 (VIRTUAL REALITY HEADSET)
JETSON AXLE 12" FOLDABLE ELECTRIC BIKE
BOSE SURROUND SOUND BAR
$500 Gas Card
$100 Lake Elmo Inn Gift Certificate
Please drop off sold & unsold tickets at GA Monday - Friday from 8:00 a.m. - 4:30 p.m. or at Sunday Mass.
Don't miss the big drawing at 3:30 p.m. Sunday.
---
Looking for Festival CORE TEAM and EVENT leads!
The Fall Festival is September 16-18, 2022!
The Fall Festival Committee is looking for some energetic volunteers to share ideas from Big Ticket Items to weekend activities and everything in between! Each Festival CORE TEAM member communicates between other CORE TEAM members and with the staff team and with your Event Leads.
As a core team, we'll get together and liaison for the community members to host this annual event. Advisory, visionary people are wanted to meet via Zoom about 4-5 times (before the festival in September) and touch base with all activities, such as Volunteers Signup slots & shifts, Big Ticket, Food and Concessions, Silent Auction, Woodbury Days and Festival Weekend.
Needed Fall Festival CORE team leads brief descriptions:
Volunteers & Weekend Sign-Ups: Assist with volunteers to communicate event leader needs, recruit high school service hour volunteers, event sign-ups and manage info counter volunteers (maps/info). Sign-up tables set up for before and after weekend masses if in-person. 95% of the tasks could be done at home.
Needed Fall Festival EVENT leads (brief descriptions):
Silent Auction: Work with fellow volunteers sorting, data entry and business follow-up calls & visits, packaging and itemizing silent auction items. Many computer tasks and follow up calls could be done at home.
Saturday & Sunday Dish/Tray Cleanup Coordinators (Food Tent): This position is perfect for Co- Leaders who like to volunteer behind the scenes. Co-Leaders will work with and assist fellow Food Event Leads to keep up our fabulous dinner's effortless appearance up.
Logistics: Zoom meeting by invite. Questions or to RSVP reach out to Sharon in the Parish Office, call 651-789-3182 or email at .
Fall Festival News/Updates:
The Women's Club will host our crowd-pleasing Bottle Lotto! It is especially popular with the younger crowd ages 5 to 15. The younger kids love to get wrapped candy, coins or other treats, small stuffed animals (think beany babies). Teenagers like shampoo, nail polish, silly socks, any beauty and hair accessories. Use your "bottled up" creativity to come up with your own mix of fun things! You can also drop off a bag of wrapped candy (no loose M&M's please) and let the Women's Club members put together bottles for you. Donations accepted August 1 - September 10 at the Bottle Lotto drop off location outside the Parish Office.
---
Fall Festival events include:
Kids Games

Silent Auction (SHOP online!)

Cake & Cereal Walk

Bottle Lotto

Craft Sale

Petting Zoo - Sunday

Restaurant Raffle
BINGO

Lucky 7/Wine Toss/Wine Plinko

Inflatables
Margarita Bar
Blood Mary Bar

Fireworks
Special thank you to our Sponsors!

If you or your company are interested in sponsoring our Fall Festival, please contact Denny Farrell at .
Looking for other ways to contribute? Some items we are currently collecting:
Gift Cards
Unique Silent Action Items
Gift Baskets