Fall Festival
Thank you for a great 2023 Fall Festival!
Mark your calendars for the weekend of September 20, 21 and 22, 2024!
Stay up on the latest with FALL FESTIVAL by following all the news and notes.
Like and follow us on our Facebook page by clicking here.
Printables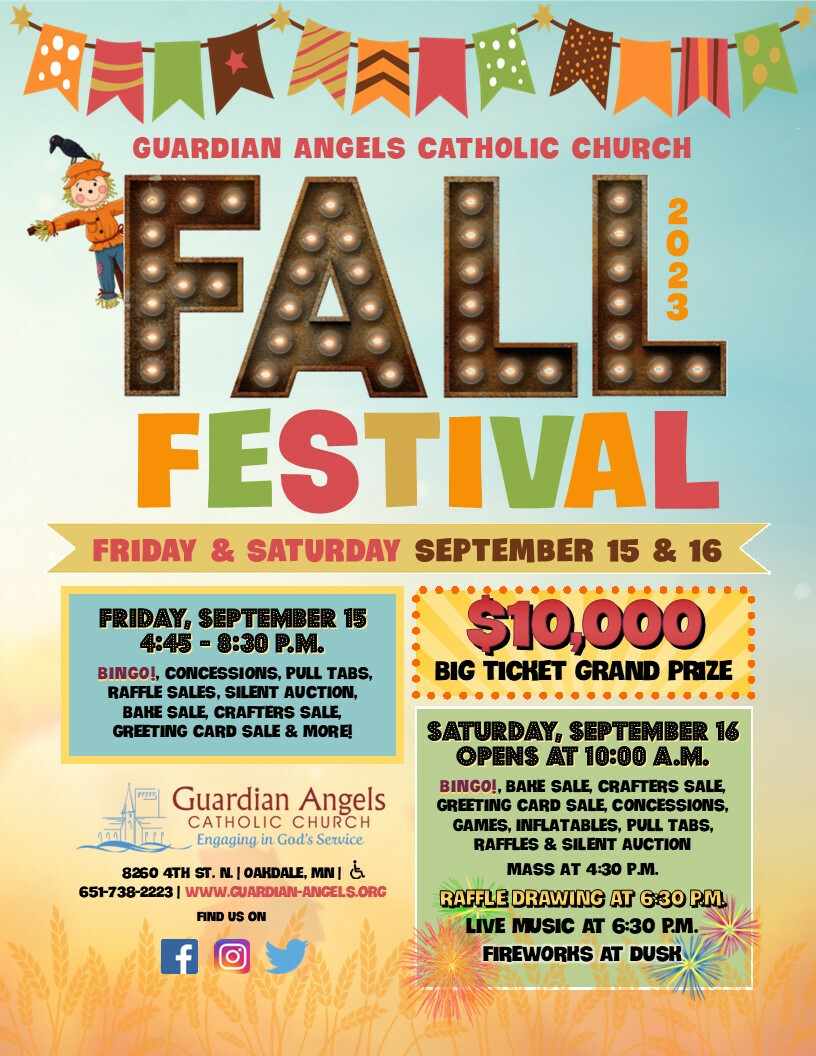 Many hands make light work! We need your time and many talents to bring this festival to life. There are numerous tasks that need to be accomplished in the planning, set up, days of the event and tear down process.
Online Silent Auction
Silent Auction room is open and accepting donations!
Drop off new, like new, special or unique items to M7. Only new bedding or stuffed animals please. If the door is closed, you can leave items on the cart. We have a drop off slip there you can fill out to quickly let us know some description info, any value info you may have and if you want the item returned if it does not sell. Some items may be sold on Facebook Marketplace, EBay or other online sales platforms to reach a larger audience than the auction can offer. Items that are not a good fit for the auction may be donated if return is not selected.
Drop off your gift cards ($10 or higher) to the collection bin on the Big Ticket table all summer to be used for the auction or bingo.
We need several people to help with business follow up in July and August. Could you spare an hour to email or call a list of businesses to see if they are a yes or a no? The more businesses we follow up with, the more donations we will receive, so even a few minutes of your time could help us a lot.
Have a connection to a big ticket item or experience? We appreciate your help and keeping us in mind in the coming months.
---
Big Ticket Raffle
Tickets are $10 and may be purchased in the Parish Office during open hours.
$10,000 Grand Prize - Guardian Angels
$2,000 2nd Prize - donated by GA Men's Club
$1,000 3rd Prize - donated by GA Men's Club
$500 VISA Gift Card - donated by GA Women's Club
$500 VISA Gift Card - donated by GA Women's Club
$500 Holiday Gas Card - donated by Seasons Parkway Holiday
Apple Watch Series 8 Gift Card - Anonymous donation
Jetson Axle 12" Foldable Electric Bike (Black) - Guardian Angels
Stealth Bird 4K HD Drone (Ultra Portable Lightweight Foldable High-end) - Guardian Angels
$150 Lake Elmo Inn Gift Certificate - donated by Lake Elmo Inn
2023 Fall Festival events include:
Bake Sale

Kids Games

Silent Auction (SHOP online!)

Chips & Cereal Walk

Bottle Lotto

Craft Sale

Greeting Card Sale
Restaurant Raffle

Lucky 7

Wine Toss

Wine Plinko

Inflatables
Margarita Bar
Bloody Mary Bar
Live Music - Blue Light Special Band

Fireworks
Special thank you to our 2023 Sponsors!

If you or your company are interested in sponsoring our Fall Festival, please contact Pat Ryan at