Hope for the Journey Home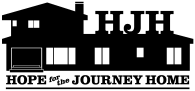 Hope for the Journey Home is a ministry of hospitality providing families with a safe, supportive, family-friendly environment as they work toward finding stable housing. Hope for the Journey Home works in partnership with area churches to provide emergency shelter to families while raising awareness in our community around issues of homelessness. It is located on the campus of Guardian Angels Catholic Church.
HJH is Hosting an Open House
Do you have friends who wonder what it is you do as a volunteer at Hope for the Journey home? Do you have co-workers, neighbors and members of your church community that you would like to encourage to volunteer at HJH. Do you know people who are curious what a family shelter looks like and what the shelters needs are? Stop in Wednesday June 7, from 2:30-4:30 and bring a friend! Tours provided. You can also encourage potential volunteers to reach out to Trish at It's time to encourage new people to be part of the HJH Volunteer Family.
We rely on volunteers like you. Join us!
Who makes this shelter possible?
Partnership with the Community Resource Center (CRC) at St. Andrew's Lutheran Church in Mahtomedi.
Support and volunteers from more than 30 churches in Washington and suburban Ramsey counties.
Generous financial donations from churches and members of the community.
Prayers and donated items from churches and community members.
Community and Foundation grants.
If your church would like to learn more about being a partner, please reach out to .
What do we provide to families during their stay at HJH?
Families set specific goals and work with case managers from the CRC to achieve them.
Private bedroom for their family.
All meals - breakfasts, bagged lunches, home cooked dinners.
Shared family spaces and the opportunity to build community with other families.
---
How You Can Help
Dinners & Overnights
We invite NEW and PAST volunteers to sign up as Dinner Servers and Overnight Hosts (sleeping in a private room). Children are welcome to volunteer with their parents or grandparents. If you are a NEW volunteer to either of these positions, please know that we require a background check and child/vulnerable adult training for anyone 18+. You can reach out to your church office to ask about completing both of these. If you are not affiliated with a church that can assist you, please reach out to us at . All weeks are open to all volunteers.
Volunteers are needed for both dinnertime and overnight shifts. You can sign up using the links below:
View all weeks Volunteer at HJH
IHOP Pick-Up and Delivery
Pick up and deliver a hot breakfast for our shelter guests from the IHOP restaurant in Oakdale. Instructions are included on the sign up link. No training required. HJH staff will provide a reminder phone call on Thursday for the upcoming weekend. Details and instructions regarding drop-off times appear on the sign-up link below.
---
We have safety measures in place in order to keep both our volunteers and our guests safe during this unusual time. We are so grateful for the support we have received as the house was made ready for this new way of doing things, and for your continued support of HJH. If you have any questions, don't hesitate to reach out. Changes we have implemented include:
We have continued with all enhanced cleaning efforts we put in place October of 2020.
A group of volunteers do a deep clean of the house in all common areas monthly. They have enhanced their cleaning efforts as well.
A plexiglass barrier is at the serving counter in the dining room.
Families are using the dining room for eating only. Each family is being served the main meal one table at a time and only adults are allowed at the serving counter. Any families still in the dining room at 6:40 will start cleaning up their areas at staff prompting.
Families continue to wipe down, sweep and clean their own tables and chairs.
We have 2 overnight rooms for the overnight volunteers. The rooms are aired out and sprayed after each use and the bathroom is wiped down as well.
Make a financial donation anytime - Give Now

Checks can be mailed to:
Hope for the Journey Home
8260 4th Street N.
Oakdale, MN 55128
---
Our Accomplishments in 2022
10 families entered the shelter in 2022. 14 families (20 adults, 32 children) were served in 2022.

4,879 evenings of shelter was provided.

5,100 meals and 1,380 snacks were served to shelter guests.

Three shelter upgrades were completed. We updated carpeting in guest bedrooms, hallways and stairs, added a shower for overnight volunteers, and a washer/dryer for staff use was installed.

We received a total of $60,000 in general operating support from The St. Paul Foundation and the Bigelow Foundation.

An increase in volunteerism started in July. An almost return to normal pre-pandemic volunteer numbers started in October.

We celebrated 10 years of service to Washington and suburban Ramsey County families and our partnership with The Community Resource Center of St. Andrews Lutheran Church in Mahtomedi. Our celebration included former guests sharing their experiences.

Renewed partnerships with 15 faith communities who provide ongoing volunteer support and 5 others who provide monthly meal, hygiene/donation drives and ongoing financial support.

In November HJH became fully staffed for the first time since July of 2020. We welcomed Michelle who supports families and volunteers on the weekends, Joan as Cook and Kitchen Manager and Whitney as our Administrative Assistant-Volunteer Coordinator.

We received additional foundation support from the

SIT Foundation

and the

Thomas Kemp Foundation

, in addition to two individuals who financially supported our carpet replacement expense.
If you need to contact us, please email or call Trish Brokman at 651-738-2223.