We won! Oakdale Acorn Award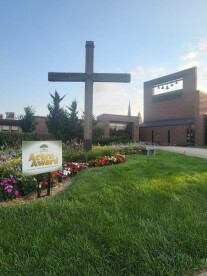 Winner! Guardian Angels has won the annual Oakdale Acorn Award from the City of Oakdale for public places. The Acorn Award recognizes properties that go "above and beyond" in maintaining their landscaping. There are three categories: residential, business, and public places. We thank our volunteer gardeners, our volunteer Mowing Angels and our maintenance team of Jason and Tom for their extra efforts in keeping our grounds well-manicured and beautiful.
By the time you read this, there will be a sign "Acorn Award Winner" placed near our front gardens and it will be there through the end of the Festival. We will also be receiving a plaque which we will display proudly near the front entrance.