Pastoral Pearls: National Race Unity Day
June 13 is National Race Unity Day.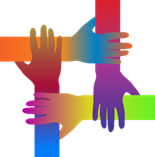 Isn't that image beautiful? Unfortunately it does not represent reality very well.
Consider the following: (from Nationaltoday.com/race-unity-day)
5 SOBERING FACTS ABOUT RACISM
1. Black students face prejudice
In the U.S., Black students represented 15% of the total student enrollment in the 2015 to 2016 school year, yet accounted for 31% of students arrested.
2. Police stops mostly involve Black people
In 2018, 80% of the police stops involved Black and Latino people.
3. More students experience racial discrimination
According to a U.S. survey, 15.8% of students experience race-based harassment.
4. White Americans don't get arrested as much
White Americans are less likely to get arrested than Black Americans.
5. Racism affects job opportunities too
People with white-sounding names are called for interviews more often than people with black-sounding names.
When I see something like this, I very much feel that my ignorance is showing. How much of my time or thoughts do I ever really give to considering what it must be like to experience constantly the kind of discrimination that is a daily norm for many people of color? It's time for me to educate myself better; to try to really SEE people of color for the wonder-filled people they are, specimens of God's incredible creation of beauty; to try to understand – to the extent that I am able – how it must feel to deal with people looking at you differently – with judgment or assuming the worst or only the color of your skin (not your brain, or your heart or your soul. Wow. That would hurt!
Working to understand is a first step. Treating all people, regardless of color, just like I would treat anyone of my friends or acquaintances, and seeing them for who they are and who Jesus is within them, would also go a long way toward racial unity. Let's try to DO something concrete to work toward racial unity. God will guide us.
Loving God, it is fascinating how you create each person so uniquely –
skin color, talents, ways of speaking, colorful characteristics.
Please help me to see all that good that you create in people whose skin color is different from my own.
Holy Spirit, guide me to know how to communicate that I care
about people of different races and that I want
to understand them better and live with them,
do things with them, assume the very best about them.
It's so hard to know what to do that I sometimes just freeze.
May your love and light giver me the insight and strength
NOT to freeze, but to put my desire for racial unity into action,
at the very least by educating myself better about who they are, what life is like for them. Amen.