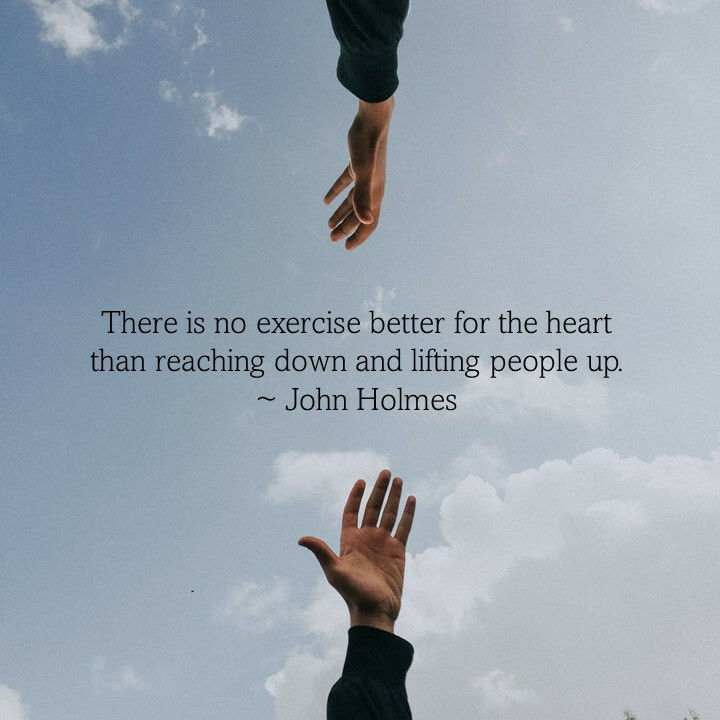 Pastoral Pearls: Heart Exercise
There is no exercise better for the heart than reaching down and lifting people up. ~ John Holmes
This always sounds so nice in my head – Reach down and lift people up. But then I have to ask myself, how am I, really, reaching out to anyone around me and lifting them up? That can be a head-scratcher. Moving a wonderful feel-good thought like this from my head – where it is all too comfortable and into my heart – where I am not only called to feel it, but to act upon it ... well that's something else altogether. After all, life is busy, right?! I have lots of important things to attend to. Which may be true, but how does that excuse me from lifting up the people I encounter?
Perhaps I make it something bigger than it is – too hard, too much work, I don't know what to do so I don't. I can't find anything to do that doesn't interfere with my life and my plans. When that happens it just stalls me out and I become adept at ignoring the challenge or downplaying my ability to attend to it.
What would happen if I just start small and begin to build a habit of looking for ways I can lift up those around me? Say for instance someone I know is down, or seems disturbed, or grieving, or experiencing astruggle I may not know about – but I can somehow see it. Instead of pretending it isn't there, worrying about saying the wrong thing, or walking away from an emotion that may be uncomfortable, what would happen if I were to ask "What's wrong?" or "It seems like something's bothering you." "Do you want to talk about it?"
That begs the question, "what next?" This can be scary. Well, nothing really is required for me to do or say. Maybe I can just listen. Or just be with that person – not saying or doing anything - just be present. Yeah, I know. Silence can be kind of uncomfortable. But for a few moments I could probably suck up my discomfort and at least try just being there with them. In most cases someone in distress will not ask much of us, out of embarrassment. But to show them that I can be there with them for at least a few minutes, shows I care. If I plug into my own experiences, I would realize that, those times when people really saw me and my pain, and didn't turn away or judge, were times that lifted me up. The same for other people in pain. So I could be that person to show them that care, to lift them up just a bit. Good thing God is always with me – that way I know I am not doing this hard, but important thing, alone, and God will guide me and give me strength to build them up.
Ok. I can try this next time I see someone down.
Loving God,
may your Spirit fill me with the courage to lift up
the people I encounter who are down.
Fill me with the strength and wisdom to know
what question to ask or how to "just BE" with them,
sitting in love and solidarity with their pain – at least for a short time.
Help me to get past the obstacles I put in my own way,
that keep me from being Christ for another, living as an Easter People.
Amen.