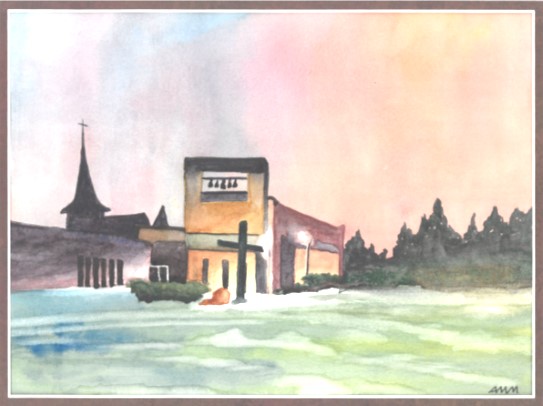 From the November Angel News:
This fall was pretty exciting for us in the Parish Office. Late in August a parishioner, Adele, gave us (the parish) a beautiful watercolor that she painted. I admired it so much that I decided to place it on a stand at the front desk for all to see during the Fall Festival. To my surprise, the painting disappeared. Oh no! I looked behind the desk. I looked under the desk. I looked around. I asked around. I asked each staff member when they last saw it. I checked the Festival's Silent Auction inventory (had it mistakenly been sold?) Nothing.
For weeks I avoided talking with Adele because I didn't want to tell her that the painting was missing!
I decided that it was time to do some detective work. First, I needed to detail what had happened leading up to the disappearance. I meticulously recreated the weekend of the Festival and tracked who had seen the painting. I narrowed in on a time frame where I determined it went missing. Second, I watched video clips from our security cameras. I know this sounds like fun, but I really was doing this hard work for the parish!
I finally found the art thief and it was none other than the artist herself! What relief, I can talk with her now. I immediately asked her if it was true and she admitted that she took the painting back… to frame it for us.
Aww, what a nice thing to do. Mystery solved, the thief does not have to do any time, and now I get to figure out where to hang the painting… for sure somewhere out of reach!
Update: The watercolor has been hung in the Parish Office, please stop by and see it.