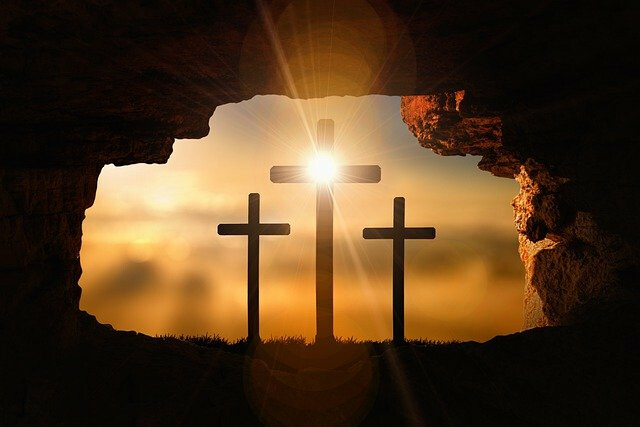 A Note from Father Joe: Easter Triduum
Dear friends in Christ,
The Easter Triduum is the highest celebration in the Catholic liturgy. The Triduum consists of Holy Thursday, Good Friday, and The Easter Vigil. As we prepare ourselves for the celebration of the Triduum, I would like to point out one action of each of the three days to help us enter these events more deeply.
Holy Thursday is also known as the "Mass of the Lords Supper," and on this day we remember when Christ instituted two of the seven Sacraments: The Eucharist and Holy Orders/the ministerial priesthood. The most recognized action of Holy Thursday is the washing of the feet, which is done by a bishop or priest after the homily. The reason the priest or bishop does this is to show how the priesthood and the Eucharist are bound together. The bishop or priest washes the feet as Christ did of his twelve disciples before the breaking of the bread. the bishop or priest washes the feet of people in an act of service before he institutes the Eucharist at the words of consecration when the priest now speaks the words that Christ Himself spoke.
Good Friday's most recognized action is the veneration of the Cross, the people come towards the sanctuary and either kiss, touch, or bow in silence before the cross to adore the instrument that Christ used in our salvation. The cross is such a vital image for our faith, whenever you enter a Catholic Church you will find a Cross behind the altar, this is such a vital image that the church requires there be a cross present behind the altar. The reason the Church requires a cross is that at every Mass we are present at Calvary again, we stand at the foot of the cross receiving the graces of the one sacrifice made present again, the image of the cross helps us to always remember what is occurring whenever we gather for the celebration of the Mass.
One of the most recognizable Easter images is that of the Paschal Candle, you will recognize the candle as the biggest candle in the church which is normally located near the baptismal font for most of the year. The candle itself represents Christ as the Light of the World, which dispels the darkness of sin and death. At the beginning of the Vigil the priest marks the candle with three images while saying a blessing. Those images on the candle are,
A cross which reminds us of the great sacrifice of Christ
The Greek symbols of the Alpha and Omega, which remind us that God is eternal
The current year, showing us that God is present with us at this moment.
There are many images and symbols throughout the Triduum, but I hope meditating on these three will help us all enter the Easter Season more deeply as we rejoice in Christ always.
In Christ,
Fr. Joe Connelly