Food Shelf Garden
Welcome to the Guardian Angels Food Shelf Garden!
At the Parish Food Shelf Garden, we are working to ensure the safety of our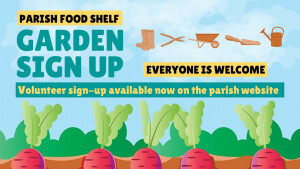 volunteers and the food we grow. Food insecurity is on the rise and that need will continue, so we are committed to providing healthy produce to the area food shelves we serve. We have hygiene and sanitation procedures for our garden and we welcome you to share in this commitment to safety. Please click here to review the document Volunteering in the Garden to acquaint yourself with these procedures.
Gardening experience is not required to volunteer – all abilities are welcome!
If you are interested in digging in the dirt with us, join us during our open hours listed below!
If you prefer to help us with more administrative or organizational work that can be done on the phone or via email, contact our volunteer, John Capecchi.
Garden Hours May - October (weather permitting)
Saturday mornings, 8:30 - 10:30 a.m.
Monday mornings, 8:30 - 10:30 a.m.
Thursday afternoons, 2:30 - 4:30 p.m.
Help with Deliveries:
Monday mornings, 9:15 a.m.
Thursday afternoons, 4:00 p.m.
Food Shelves Who Distribute Our Produce
Open Cupboard Emergency Food Shelf, Oakdale and surrounding areas
Friends in Need Food Shelf, Cottage Grove
North Saint Paul Food Shelf
Valley Outreach, Stillwater
Other Sites Who Benefit
Hope for the Journey Home
Catholic Charities Opportunity Center and Dorothy Day Residence