Pastoral Pearls: Suicide Prevention
September is National Suicide Prevention Month. Also known as Suicide Awareness Month, the month shines a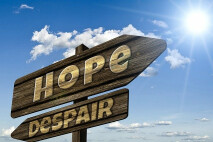 spotlight on a topic not often talked about. Suicide is a tragedy which happens all too frequently, to people who are suffering deeply, and is devastating to family and friends who are impacted by the loss long after the death of the loved one.
Suicide has touched my own family, with my own troubled older brother taking his own life when he was only 23 years old. I witnessed the devastation of parents buried under the guilt of not being able to save their child – wondering what did they do wrong? As often happens, they were not able to talk about it. As also often happens, I, at 20 years old, felt I was supporting them, holding their dignity together, consequently not really dealing with my own grief. It did follow me throughout my life, impacting my responses to life, until I did face it more head on.
NAMI (National Alliance on Mental Illness) is there to support those considering suicide, with numerous resources, as well as those dealing with the loss of a loved one through suicide. The key is for people to utilize these resources available to them. Unfortunately, suicide has a stigma attached to it that often keeps people quietly suffering. It takes courage to reach out for help – whether contemplating suicide or dealing with the aftermath of suicide. Our faith would encourage us to walk with others through this journey of suffering, and reach out for help, as no one can or should have to endure this alone.
What do we do when faced with someone contemplating suicide? Shortly after my brother's suicide I was working with junior and senior high youth – leaders for their peers – who were telling me they had thought about suicide at one time or other. I was shocked and appalled. I tended to judge them as I was still judging my brother for not having the courage to face life and fight for it. That was a trigger that showed I had not yet dealt with my own pain. I did however have the presence of mind to bite my tongue, let them talk, and then offer them a different perspective. These kids were not contemplating suicide, but talking about the topic. NAMI also suggests that talking to a person contemplating suicide and asking about their thoughts – younger or older person - will decrease the trigger of suicidal action. Suggesting a counselor or treatment for depression might also help. Often, people who are depressed need a caring friend, but not one who will "keep their secret" about their suicidal thoughts. A common fallacy is that people who talk about suicide never act on it. If a friend or loved one is talking about suicide, it's time to get help for that person.
When the weight of a long-term struggle or a crisis weighs you down, allow friends, family or a profession to lighten the burden by finding support. There is no shame in seeking help. And there is no shame in getting support as the survivor of a loved one who has taken their own life. One way to find a compassionate listener for yourself, having lost someone close to you to suicide, is to request a BeFriender. Since they are committed to non-judgmental, compassionate, listening which is caring, not curing, you may talk about any feelings or thoughts around your loss – even if they include anger without shame. Contact MaryPat Potts if you want to discuss this possibility more. 651-789-3178/
Loving God,
it is true that life can be difficult at times – sometimes excruciatingly painful.
Help me to remember that you are always there right beside me through any suffering I am trying to endure.
Your strength will carry me through, because you understand suffering, and offer me life to the fullest.
May I trust your power to overcome even what seems insurmountable to me.
Guide me to seek help and support when I am trying to go on with my own life after someone dear to me has taken their life.
Remind me that I never need to walk in shame and alone.
You work through the loving people around me, and through the resources they offer.
I am grateful for the love and guidance you always offer to me, when I am willing to listen.
~Amen