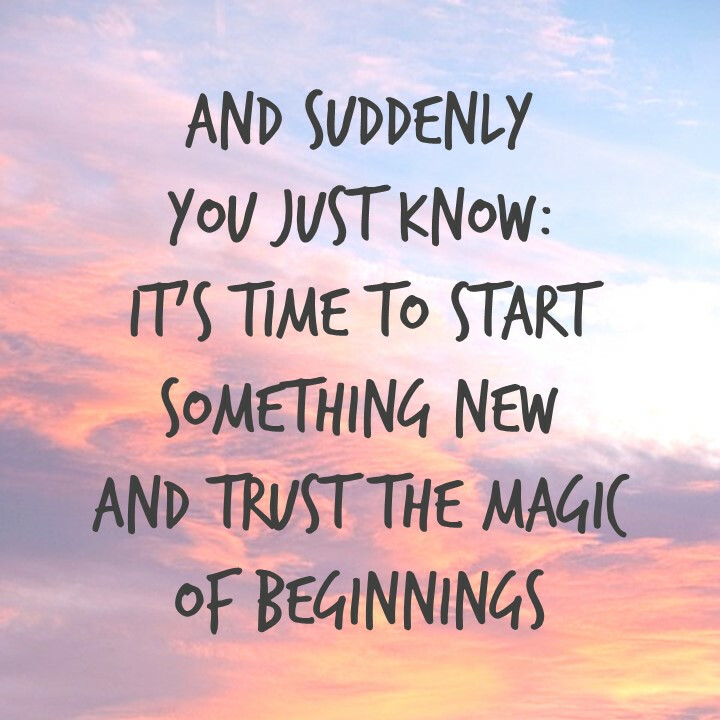 Pastoral Pearls: New Beginnings
And suddenly you just know: It's time to start something new and trust the magic of beginnings.
That is what I want to feel this New Year. Suddenly makes me feel like some new and wonderful change is happening. It feels like a mystery, an adventure. To just know is to really tune into my own intuition and listen for that still small voice of God that speaks to me there. It's time – yeah, sometimes I just need a kick in the butt. To start… It's time to act on what God's guidance through my intuition is calling me to do. I've heard the saying that "A Goal without a plan is just a wish," and to that I would add that I need to support it through what I actually do. Trust the Magic reminds me that there will always be magic in whatever God calls me to do, wherever he calls me to go. Trust means also to embrace, to jump in with both feet, to put my money where my mouth is. Trust means I fake it till I make it, knowing God will make all things right, somehow, no matter what. Trust seems to be the hardest for me, though – trusting myself, trusting my intuition... trusting that God will really come through for me, or work through me. And yet I keep acting as if that is exactly what will happen. Trust. Beginnings is the part I like best about the New Year – each year. I get to begin again. I get to open myself up again, and clear away all the clutter that has distracted me from God's infinite possibilities for me. I get to work at believing again. It's exciting, because it feels like I'm given permission to follow my curiosity again – see where it leads. This is a time where I can look at the world through fresh eyes, with an open heart, with new enthusiasm (which means, by the way, belief in special revelations of the Holy Spirit) and with renewed energy. Happy New Year! Buckle up for this amazing ride!
Loving God, open my heart to new special revelations of your Holy Spirit.
Give me courage to follow my intuition – your voice guiding me.
Fill me with the joy of this exciting new adventure, this new year,
and show me how to BE your presence to the world,
even in small, meaningful, and surprising ways.
Fill me with your strength to leap with faith
into wherever you take me in this new year.
I am grateful for this opportunity again, and all the possibilities. Amen.