Pastoral Pearls: Looking for Beauty
The sign of a beautiful person is that they always see beauty in others. ~ Anonymous
Sounds easy right? But is it? It does require intentionally looking for that beauty.
I have to say that when I do really look at a person – any person – to see what beauty I can find, there is so much to them! Each person was beautifully created by God, and I can really see that when I am intentional about looking for it, even in the least likely places (people). Unfortunately, society has taught me all too well to assume the worst. I try so hard to fight that, but I have to admit that I fall into that negativity. It seems to be what "everybody does" – with their complaining, judging, critiquing – and I can be lazy and just go along with it, too.
But I remember some specific examples of the impact it can have on a person when I do see the best in them – the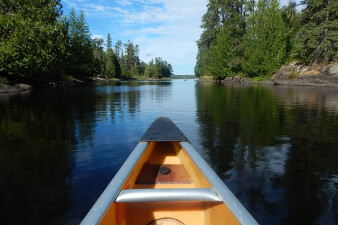 beauty- and voice it to them. Many moons ago, on a youth trip to the Boundary Waters, there was a young man – tall, gangly, quiet, unsure of himself. When we were out swimming together, I happened to speak out loud what I was thinking, and told him how amazingly beautiful his eyes were. Maybe an awkward compliment for a teenage boy. But interestingly enough, it opened up conversation between us, where he shared more with me about his life. I was honored. I don't think he was planning on sharing anything of himself with me, and I don't know what made me blurt it out (other than the Holy Spirit), but it turned out to be the right thing to do. It lead to me pointing out to him that though he may be shy, I saw he had some real leadership qualities. After that this insecure man-boy seemed to shine more brightly.
Later, we had a bit of a crisis on this trip, with the other chaperone having a diabetic episode where he fell into the lake while brushing his teeth, hit his head on a rock, bit his tongue, and was combative, and incoherent. This young man, since he was so tall, put himself between this chaperone and the lake, so he would not hurt himself, and was able to physically keep the chaperone from falling into the steep, deep lake again. And when the chaperone wasn't snapping out of this for too long a time, even after receiving the emergency injection we had for this teenage boy who was also diabetic, I left this young man in charge of the group as leader, while another youth and I paddled back to base camp for help. We also alerted some adult leaders from another group, who we found on a neighboring island, to check in with them to make sure they were okay. When we returned we found that the other chaperone had snapped out of it shortly after we left, and this young man entertained the others in the group by letting them do a "make-over" on him – complete with make-up and hairstyling! Now that showed new-found guts and confidence in himself, and he brought everyone into a tight-knit group through the experience. And I do believe it all started from expressing to him the beauty I saw in him.
We all have the ability to find this kind of beauty in the least likely of people, but the true test is to follow the Spirit and let go of any self-consciousness, and tell the person about the beauty we see in them. To move from just a thought that runs through my head (most often left unexpressed) to sharing this positive observation, with no ulterior motive, is huge! Try it! It's fun!
Loving God, may you bless us all with the perceptiveness
to look for and see the beauty in each person we encounter,
and the courage to express it to them openly and lovingly,
so they may know the wondrously gifted person you have created them to be,
and shine brighter in this world. Amen.